Leesburg Locksmith Service - Lock & Key Leesburg, VA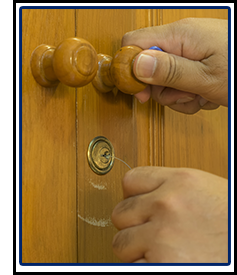 Every home today is protected with locks and keys. Even if technology takes us to greater heights, we still use locks and keys as our primary safety measure to secure our homes, offices, warehouses, garages, etc. Even though their existence has been around for decades, they have evolved and have become extremely sophisticated today. If you get stuck in a lock and key problem today, you will need a professional locksmith who knows all the how-tos of a traditional as well as present-day lock system to help you. Leesburg Locksmith Service provides the best locksmiths in Leesburg, VA. We are known for providing quality locksmith services at an affordable price range. Our expertise lies in assisting customers with all their lock and key related concerns. We also provide 24-hour locksmiths in Leesburg VA, something that our competitors till date, are unable to provide efficiently. Call us on 703-445-3538 if you are struggling with a jammed lock or if you're stuck in a lockout emergency. Our experts will assist you in the best way possible.
Our services include key creation, handling residential, commercial and automotive lockout emergencies, broken key retrieval from car ignition, fixing car transponder issues, etc. Trust the brand that has been trusted by thousands of customers across Virginia by giving us a call now!
About us
Before we started our journey, there was no proper locksmith assistance provided to the residents of Leesburg. All the businesses that promised to provide quality services were either drilling a hole in their customers' pockets or their services were not up to the mark. We took it as a challenge to change statistics and make good locksmiths in Leesburg VA accessible to all. Leesburg Locksmith Service started with the same aim while carefully understanding what the local community needed. Since we targeted the requirements of local people, we started getting a positive response from our customers. It didn't take us long to become the most preferred locksmith service in the entirety of Virginia.
Over the past few years, we have earned a reputation for ourselves for being a dependable locksmith provider that aims to make the quickest and cheapest services available for all people in the city. With our competitors offering the same or fewer services at even higher prices, it didn't take us long to leave them behind in this race. The moment you call us, we promise to help you with the best of our locksmiths who would reach out to your residence/commercial place within 30-minutes to provide a swift resolution. We offer our services 24/7, thereby offering around-the-clock support and a team that is willing to help even at odd hours.
Team of Skilled Experts
Leesburg Locksmith Service is a known brand that provides the cheapest locksmith services without hampering with quality. To make quality services available for all, we hire only skilled locksmiths in Leesburg VA and make them a part of our team. We train the locksmiths before handling them any work so that we are sure that they can manage any lock-related problems for our clients. We don't just train them on the technical aspects but also on soft skills so that they can communicate with our customers effectively and good work ethics
We also provide our locksmiths with the most advanced and sophisticated tools to make sure they can handle any type of lock repair or key cutting job with ease. From traditional to current day locking systems, our locksmiths are trained to handle it all.
We offer quick results
During an emergency, all a customer needs is quick assistance which ensures the problem is solved in no time. Leesburg Locksmith Service provides a resolution within 30 minutes to make sure our clients don't have to be in the stressful lockout emergency for long. You may have your home lock jammed in the middle of the night, or maybe you locked yourself outside your car in an unfamiliar neighborhood, or you just want to rekey all your home locks following a burglary threat. Whatever the case may be, we at Leesburg Locksmith Service make sure to offer the best 24 hour locksmiths in Leesburg VA.
Our Services
Being a leader in locksmith services in the entirety of Leesburg is no easy job. Our quality of services and affordable pricing have made who we are today. Some of the services that we excel in are:
Automotive locksmith services
If you happen to be locked out of your car in that unknown neighborhood you have never been to, or maybe a deserted gas station, then you may want to have our number handy with you. Sometimes, car locks jam all of a sudden leaving us panicking about the situation or you may end up losing your car keys. This emergency can bug anyone, at any time. Don't worry, because you've got Leesburg Locksmith Service by your side. We provide the best automotive services in and around the city. From fixing car locks, retrieving broken keys from the ignition, programming transponder keys or setting up new locks, we do it all
Residential locksmith services
Residents face lock & key problems more than anyone else. We receive many calls regarding a jammed home lock, home lockout situation, lost keys etc. Leesburg Locksmith Service is a leader in providing residential locksmith solutions to ensure customers are served well. No matter if you are stuck in a lockout emergency, or have been facing a stubborn jammed lock for long, our trained and professional locksmiths can deal with any problem. They can also assist in installing new locking systems for your home or can also upgrade the existing ones providing enough details on how to maintain them so that you don't face any issues afterward.
Commercial locksmith services
Businesses have to worry about the security of their commercial places. For them, security is a primary concern and handing it over to amateurs means compromising on their security. Leesburg Locksmith Service is an expert dealing with commercial locking systems for over a decade now. Trust us in delivering an optimal and secure locking system for your organization. We are backed by reviews from various businesses, claiming that our services are the best of the lot. We offer our services during the late-night as well so that the productive hours aren't affected. Call us now to avail the exclusive range of locksmith services curated specially for commercial purposes; right from keyless access, digital locks, high-security locks to push bar installation.
Emergency locksmith services
Emergencies can happen any time and the only thing that we need at that moment is for someone to help us quickly. Leesburg Locksmith Service excels in providing emergency locksmith services quickly and efficiently. Doesn't matter if you have been locked out from your own house in the middle of the night, or are facing a jammed lock during odd hours, or maybe you are stuck in your car near a deserted gas station, our emergency locksmith services can reach you within 30 minutes. You can call us on 703-445-3538 during any time of the day, and we will send our 24-hour locksmiths in Leesburg VA to assist you.
Why choose us?
Leesburg Locksmith Service has been a leader in this industry ever since it started. We have maintained a good reputation amongst the customers and it is their generous reviews that have helped us move forward. Delivering a wide array of locksmith related to our clients makes us the best brand to choose from. Once you call us, you wouldn't need to go anywhere else for any of your lock & key troubles. We provide all solutions under one roof. Our team of expert locksmiths is well trained and well-versed with all the how-tos, ensuring a smoother resolution to all your locksmith problems.
Be it residential, commercial, automotive, or an emergency locksmith problem that you are stuck in, simply pick the phone and dial 703-445-3538 to talk to our experts and we will send the best locksmith in Leesburg VA to help!

We Provide Lock & Key in the following zip codes.